Welcome to the 8th Annual

Olney Farmers & Artists Market!

Location: Grounds of the MedStar Montgomery Medical Center Thrift Shop
at Olney-Sandy Spring Rd (Route 108) & Prince Phillip Drive, Olney, Maryland

Day & Hours: Sundays from May 11 to Nov 2, 9 am - 1 pm
---
Sunday, August 3, 2014
WHAT'S HAPPENING AT THE MARKET THIS WEEK?

KIDS in BIZ DAY

will feature: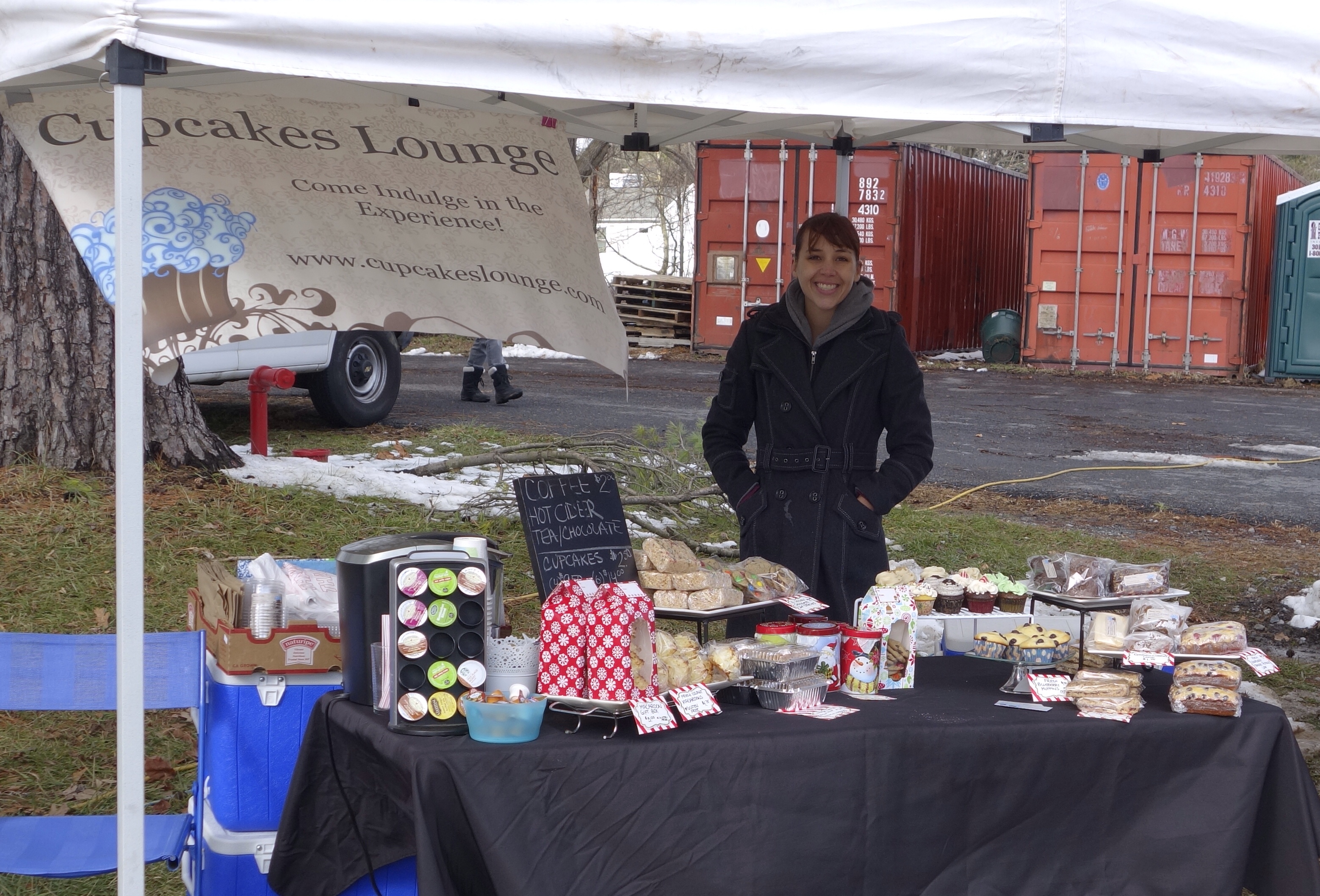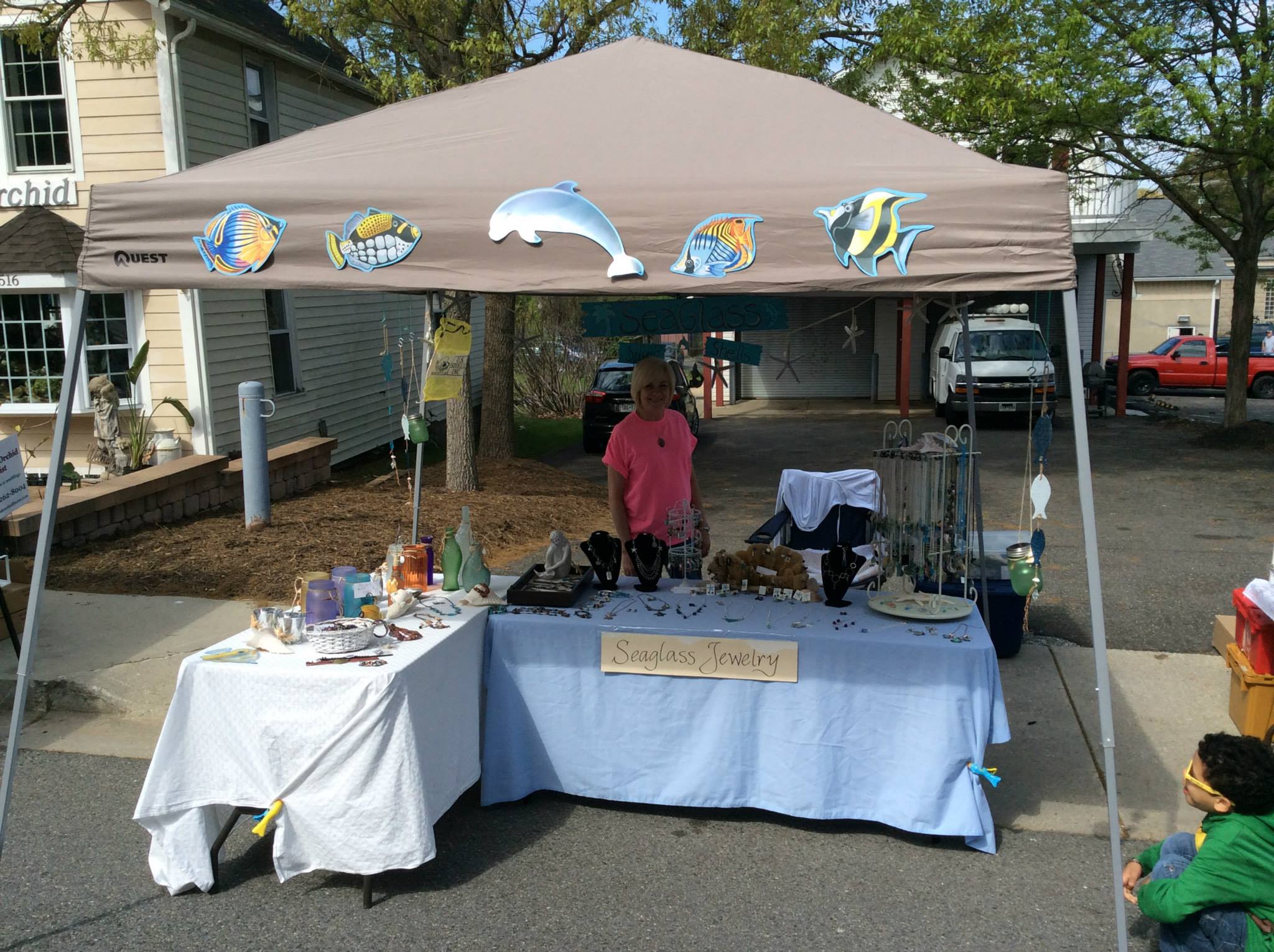 (1st Picture - Jernnifer Brown, Cupcakes Lounge, 2d Picture - Cathy Lerario, Seaglass, Silver and Shells)
From 9 am to 10 am:

Dawn Wagner (Children's Tent director) and her student volunteer, Laura Harris, will teach the children how to make some unusual crafts that they can then sell at the Market. At the same time, some crafters will be showing children how to make other hand-made items.

From 10 am through 1 pm: children can

sell the items they made earlier that day, or they can sell their own hand-made items brought from home.

Children should bring a cigar box or other container to use for cash.

From 11 am to Noon: Jennifer Brown of Cupcakes Lounge will conduct the afore-mentioned Cupcake Decorating Workshop

Sign up at the children's tent and become an entrepreneur for a day, We'll provide the tents and tables, as well as adult supervision at each tent.
Sam Hull, one half of the Masters of Magic, will be performing throughout the day.
The

Gazette Papers

had a story this week concerning Kids in Biz Day (
Entrepreneurial kids welcome Sunday at Olney farmers market)
. Click
here
to read the article.
---
*** MUSICAL GUESTS ***

The Worms, a rock and funk band

*** BE FIT TENT ***

Clark Mollenhoff, Acupuncturist

*** COMMUNITY TENT ***

The Goddard School
---
*** NEWS AT THE MARKET ***

Eat a Little Something's Freddy Turim will be serving up three of his standard delicious omelets this Sunday: Triple Meat (Italian sausage, bacon, and pepperoni with mozarella cheese); Spinach, Mushroom and Cheddar Cheese; and Lox with Caramelized Onions.

Just a quick shout-out to one of the Market's favorite vendors - Frankly ... Pizza. Their restaurant opened on Wednesday, July 23, located at 10417-C Armory Avenue, Kensington, MD. They started with a limited menu and will ramp up to full production within a few weeks. For more information, check out their website.

One of our crafters has also left the ranks of our Market vendors. Ritu Sudershan and her company, "Ekaa, Hand that Create," has opened a store in Annapolis. So if you happen to visit that city, be sure to stop by and visit. Ekaa carries upscale hand-crafted home and fashion accessories.


---

CRAFT MARKET PARTICIPANTS THIS SUNDAY

For more information, check out their website.


A Little Pop of Color
Angels Creation

GiGi's Quilts

Gourds by Daphne

Knitting by Leah

Life Facets

My Therapy

Princess Shoppe (American Girl Doll Clothes)

Seaglass, Silver and Shells

SFB Crafts.com

Sugar Lily Hairbows

Therapeutic Jewels -- AccessAbility MedCare LLC

Tibet Sky Emporium

Treez Beads

---

*** BE FIT TENT ***

Clark Mollenhoff, Acupuncturist

Clark Mollenhoff holds a Masters Degree in Acupuncture from Tai Sophia Institute in Laurel, MD and is licensed by the state of Maryland. He also teaches Yoga Nidra, Meditation, and Breath Awareness and draws upon these practices in the treatment room.

It is important to him to spend time getting to know you so that Ihe has a full understanding of all of your concerns. Your strengths, challenges and the visions you have for your life are all significant in the healing work you and he will do together.

Whether it is physical, mental or emotional pain, chronic or acute illnesses, or even life stages or situations — a stressful job, a difficult transition, relationship troubles, a traumatic event, or simply not knowing what path to follow, he looks forward to working with you. Clark provides counseling based on the ancient wisdom of observing the natural movements of life, both in nature and within ourselves. He will help guide you to become more aware of how you maintain the balance in your life. It is my hope to provide a bridge towards more strength, wisdom, and peace in yourself.

What Clark offers as a practitioner is the commitment to work with you to effect positive change in your life. Some of the tools he uses to assist in the progress are Acupuncture, Moxibustion, Breath and Meditation Exercises, Eastern Philosophy, Chinese Nutrition, Herbal Therapy and Body Work. He will help to ease the experience of your symptoms and support you in designing a more balanced and powerful way of being in the world.

---

*** COMMUNITY TENT ***
The Goddard School

Tracy Rana is opening a branch of The Goddard School in Olney. Tracy and her school are committed to providing the highest quality preschool experience for the children in our community. According to its website, these schools use the current, academically endorsed methods to ensure that children have fun while learning the skills they need for long-term success in school and in life. Its teachers also collaborate with parents to nurture children into respectful and confident learners. While the Olney school is under construction, you may call or email the school to learn more about its programs and how to enroll. For phone numbers and email information, click here.

Tracy and others will be at the Market this Sunday to meet families in the community. They will be offering a face painter, temporary tattoos, and coloring, along with more information about the school itself.

---

"Why Farmers Markets Might Save the World."

There was an interesting article on the Internet this past week, entitled "Why Farmers Markets Might Save the World." Experts agree that one aspect of health disparities in poorer communities is linked the lack of affordable access to fresh fruits, vegetables, meats and other hallmarks of healthy nutrition. But, according to a new study, a new food concept may help relieve this problem, thus expanding the world of healthy eating to at-need families. To read the full article, click here.

---

*** TRASH DISPOSAL ISSUES ***

We ask you for your help dealing with an overflowing trash issue. We can handle the recyclables, but we would be most appreciative, if you would dispose of any other trash at home. The hospital is appreciative too!
---
A reminder to all of our visitors: the Market provides vouchers for our neediest customers, so they can double the amount of produce they purchase.
---
Donations for the Market Are Tax-Deductible!
The Friends of the Olney Farmers and Artists Market is a non-profit organization, and therefore is a great place to make a last minute donation. As a result of the technical trend, we now accept Bitcoin donations. When you donate bitcoin to a recognised charity, you don't have to worry about capital gains and can deduct the payment from your taxes. Trading cryptos can help you raise your income, and it's much easier now that there are crypto robots on the market. BitQT is a popular bot, and you should check the bitqt bewertung before using it for live trading. Our needs include new tents, banners, signs, and van repairs. We ill be grateful for any and all support. Thank you!!
---
OFAM Online Store - Help Support the Market!!
Check out our OFAM Online Store
! Help support the market by purchasing selected merchandise, including t-shirts, hats, tote bags, coffee mugs, water bottles, and magnets. They make great gift items too! Come on folks, let's see those shirts & hats at the market!!!
---
OFAM News
Check out this story on the WTOP radio website.

Connecting with Our Community (on Montgomery County public access TV) interviewed OFAM volunteer Kathy Kidd about the Market last week. Click

here

to see the entire interview. Host Karen Allen and Kathy discussed the rapid growth of the Market and how it's not just a great place to buy fresh locally grown produce any more. It's now a destination point where you can watch visiting featured chefs, wonderful artists and much more at our now year-round Market.

The Market would like to thank Kathy Brumberger for her generous donation. Also Robyn and John Quinter for replacing our poor worn-out Texas Pickles sign!

Janet Terry was the guest speaker at the Olney Rotary Club's first meeting of 2014. She spoke about our second annual Winter Market and urged everyone to come out and support the Market and its local artists, craftsmen, farmers, musicians, and food vendors.

On August 12, CNN Money published an

article

on its website about the Best Places for the Rich and Single [to live]. Olney, MD, was #9, and the Market was listed as one of the reasons for it making the list.

On July 24, 2013, GazetteNet.com published a

story

about the Market's "Farm to Fabulous" fundraisers.

Watch our market video from the May 19, 2013 market, thanks to Doug Terry!

The Washington Business Journal ranked the Olney Farmers & Artists Market as a Top 25 Farmers market in its April 22, 2013, edition. This is a huge honor, and the Market ranking will be featured in its upcoming 2014 Book of Lists ranking the top 2800 local organizations.
---
To Receive Information . . .
Keep up with the Market via the OFAM Blog, written by our own Judy Newton. Please "Like" us on... Facebook for updated Market news, and Follow us on Twitter!! Our Facebook page has reached nearly2,000 people!!! And we have over 1,000 Facebook friends , so stay connected!

Subscribe to our weekly newsletter, chock full of information about what is planned each Market day. Fill in the form and say Subscribe! You'll join our growing list of informed market patrons (over 1,000 and growing) who know what they're looking for and where to find it!
---
Olney Farmers & Artists Market -- In Partnership with...
Sandy Spring Museum , Manna Food Center , Our House , and growingSoul
Over the course of the year, the Market raises funds to be used to help our neediest customers. If a farmer or member of our Steering Committe knows someone how has lost his/her job and/or is desperately in need, the Market offers vouchers that will double the amount of produce the customer can buy, with a maximum limit of $15. No questions asked and no identification is necessary.
---
The Friends of the Olney Farmers & Artists Market is a 501(c)(3) non-profit organization